Disclosure: This shop has been compensated by Collective Bias, Inc. and its advertiser. All opinions are mine alone. #RegisteringForBaby #CollectiveBias
Need a baby shower gift? This simple, practical gift is something every mom-to-be needs, whether it's her first or fifth child.
When was the last time you went shopping for a baby shower gift? What did you buy the mom-to-be? For first-time moms, it's not too hard to find something useful. Babies require A LOT of stuff, after all. There's a reason they have whole stores dedicated to these tiny people. First time-mom's registries are filled with much-needed blankets, clothes, cribs, strollers, bottles, teething toys…the list is endless.
But what do you get for the second-time mom? Or the fifth-time mom? They don't often need the car seat or crib, but babies are still expensive.
Today, I've got an idea for you…
When I was pregnant with my first child, I received many generous gifts from friends and family members. One in particular stood out to me because it was something I hadn't even thought to register for.
My husband's sisters all went in together to get me a gorgeous diaper bag–a pricey one that I never would have splurged on for myself. More than that, though, they filled it with their favorite baby basics–consumable items like baby medicine, diaper cream, multiple brands of pacifiers to try out, and other things they had found most useful with their own children. I thought it was such a brilliant idea!
In my overwhelmed, pregnant mom world, needing these kinds of basics hadn't even crossed my mind. I was still too wrapped up in trying to pick out a car seat and stroller combo. I was so grateful for their foresight and generosity. In the months after my baby was born, all of their gifts were used and loved. It was one of the most practical gifts I received.
Since then, gifting "my favorite things" has become my go-to present for moms. It can easily be adapted for first-time moms or experienced moms as well. Even if you have multiple kids, there are some things that you need to buy over and over again. These consumable items are my favorite things to gift experienced moms.
Here's an example of the kind of gift I like to give. Hover over the image below to shop for products I used: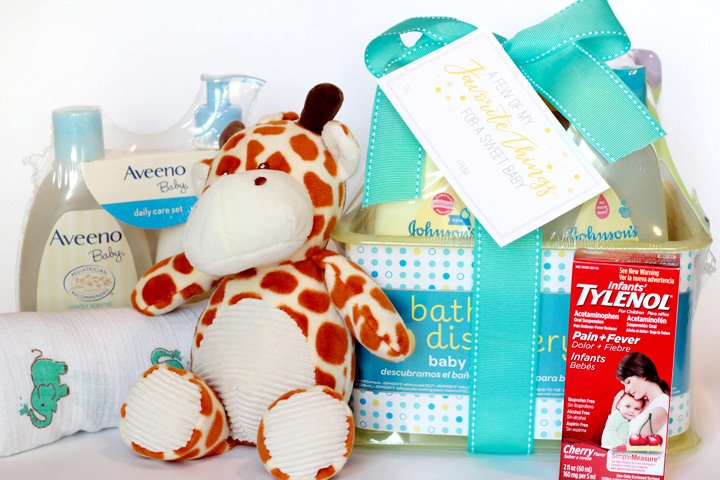 You can make your gift basket as personalized or as simple as you want. If you want to personally curate every item that goes into the basket, it can be really fun to share, but if you're short on time, you can pick up a ready-made basket filled with useful items for new moms.
The latter is what I did a few weeks ago when I needed a gift. With a new baby of my own, I didn't have a lot of time to go out shopping. So, while I was at Target buying diapers for my own baby, I quickly picked up a Johnson's® Bath Discovery Set. It's filled with an assortment of baby wash, lotion, diaper cream, etc. I found it in the aisle with all the baby washes, near the diapers. Note: in some Targets this is a different section than the rest of the baby items/clothes.
Johnson's baby wash is what the nurses used in the hospital, and it's what we've used ever since. It's always been gentle on my babies' skin and it's cost effective.
P.S. – As an alternative, I LOVE Aveeno products. Aveeno's moisturizer is the one I use every single day. I have also recently started using a lavender-scented lotion they make, and it's divine. In the dry climate where I live, lotion is a necessity, and their lotions aren't greasy at all. They have an Aveeno® Baby Daily Moisture Regimen Pack with a wash and lotion that are just as good as their products for adults. Highly recommend!
So, the next time you are searching for the perfect gift for a mom-to-be in your life, try making her a "favorite things" basket (singing the song from The Sound of Music while you shop is optional, but highly recommended). It's super simple.
How to make a "favorite things" baby shower gift basket
Step 1: Get a cute container.
You can use a basket, a bucket, or even just a gift bag. The sky's the limit here.
Step 2: Gather some of your favorite things.
Here are some ideas of practical items to include that would be useful for a new mom:
diapers
wipes
diaper cream
baby wash
baby lotion
new pacifiers
baby medications (TYLENOL®, etc.)
saline nose drops
baby sunscreen
first-aid kit items (bandages, antibiotic ointment, etc.)
baby book
monthly stickers for baby photos
Another variation on this gift would be to make a "favorite things for mom" basket. Some people call this a mom survival kit.
When I had baby #3 a few months ago, I received a new take on the "favorite things" gift. A dear friend of mine brought me a bag of her own favorite things to pamper myself with post-baby. Everybody buys things for the baby, but not often for the mom. It was so nice to have a few little luxuries for myself during a time when much of my day was consumed with caring for someone else. Here are some ideas for favorite things for mom:
Practical items (especially for breastfeeding moms):
nipple ointment (lanolin)
breast pads
granola bars/trail mix (simple snacks)
hand sanitizer
water bottle
Little luxuries:
lip balm
bubble bath
lotion
nail polish
gum
chocolate/treats
gift card for a take-out dinner
magazine or book
Step 3: Assemble the gift and attach your free printable gift tag.
Once you have gathered all your items together in your container, add some ribbon and a cute tag, and you're done.
To keep things simple for you, I've created some free printable tags perfect for the occasion. Choose the color to match the baby's gender or keep it neutral with sunshine yellow. I've also included a tag geared more toward the mom, if you decide to go that route.
Print, cut, stick, and you're done. Enjoy!
Let's talk about baby registries:
It's always a good idea to check the mom-to-be's baby registry as a starting place to find out if she has a preference on certain brands of items you're considering. Target is a good place to start when looking to see if the mom-to-be has a registry. If someone is going to register at only one store, it's likely going to be Target. Target stores are practically everywhere, their prices are reasonable, and you can often order online and pick up items in the store.
Can we talk for minute about the fact that most people don't make registries after the first pregnancy? I think we often think, "Well, I'm not having a shower, so it's unnecessary." Not so!
I didn't make a registry for baby number 2, but I did make one for baby number three. Why? Even though I didn't have a shower, there are some pretty great benefits of setting up a registry:
First, once you set up the registry, you can pick up a free "Welcome kit" from customer service in any store. Mine had samples of a bunch of different products like diapers pacifiers and baby washes and lotions. It also had a several coupons.
Second, when somebody does want to get you a gift, it's nice if they can find out what you actually need since after your first child you off and don't need a lot of the basics people immediately think of.
Third, eight weeks before the due date you indicate, you receive a 15% off discount coupon to use on anything left on your registry. So load up your registry with things you'll need, especially the basics listed above, and you can create your own personal sale of sorts. Hooray for saving money!
Click here to set up your own Target Registry.
Now, as a mom of two–soon-to-be-3–kids at the time, I didn't have time to go to the store and walk around leisurely zapping adorable items for hours at a time. I can only imagine what would have ended up on my registry if I had given the scanner to my 3- and 5-year-old boys. Oi.
Thankfully, I didn't have to. I set up my whole registry while I snuggled on the couch after my kids went to bed one night…all from my phone. I downloaded Target's registry app, turned on Netflix, and set to browsing and adding items to my registry. It was super easy to set up, and the app was quick and user-friendly. If you do happen to be in the store and see something you like, you can even scan items directly with your phone to add to your registry.
It's a great app if you're shopping for gifts, too. The app makes it easy to search for registries, buy items online, and there's a function for group gifting, so guests can contribute to larger items. Super slick.
So, if you're expecting a little one in the coming year, help out yourself and well-wishers who want to celebrate with you by taking a few minutes to set up a registry. If you you're a well-wisher, give the mom-to-be a gift that's fun for you and super-helpful for her: your favorite things!
Congratulations, mamas!