Disclosure: This shop has been compensated by Collective Bias, Inc. and its advertiser. All opinions are mine alone. #SnackItAndPackIt, #SeasonalSolutions #CollectiveBias
Ready for Halloween? These festive Halloween treats can be made in less than five minutes, and they're perfect for class parties, neighbor gifts, or trick-or-treaters!
It's just about a week away from Halloween! Are you ready? I have one costume done (because I borrowed it), one partially done (because I have to get the parts I couldn't borrow), and one not yet started. I guess I better get busy.
I'm excited for my boys' coordinating costumes though. Little Brother has changed his costume choice approximately a thousand times over the last month, so I wasn't sure he'd agree to be a part of our group costume idea. But once he actually saw the Mario costume, he was sold! Hooray! I'll be sure to post a picture next week of our cute Luigi, Mario, and baby Toad. I can't wait! They want me to be Peach and their dad to be Bowser, so we'll see how well that happens.
Now that our costumes are set (at least in theory), we're moving on to other important Halloween tasks, like making sure we have treats for class parties and trick-or-treaters. That's where today's tutorial comes in.
Does your school allow homemade treats, or is your school part of the "pre-packaged only" movement? A lot of schools these days seem to be putting the kibosh on serving kids anything that isn't in a sealed package. I understand that schools have to worry about liability these days, but this policy can make it tricky for moms who want to contribute fun, festive treats to their child's class party.
Today, though, I've got you covered. I'm going to show you how to take some kid-pleasing pre-packaged treats and Halloweenify them (yep, I just made up that word).
Hover over the photo below to shop for products for this easy Halloween tutorial: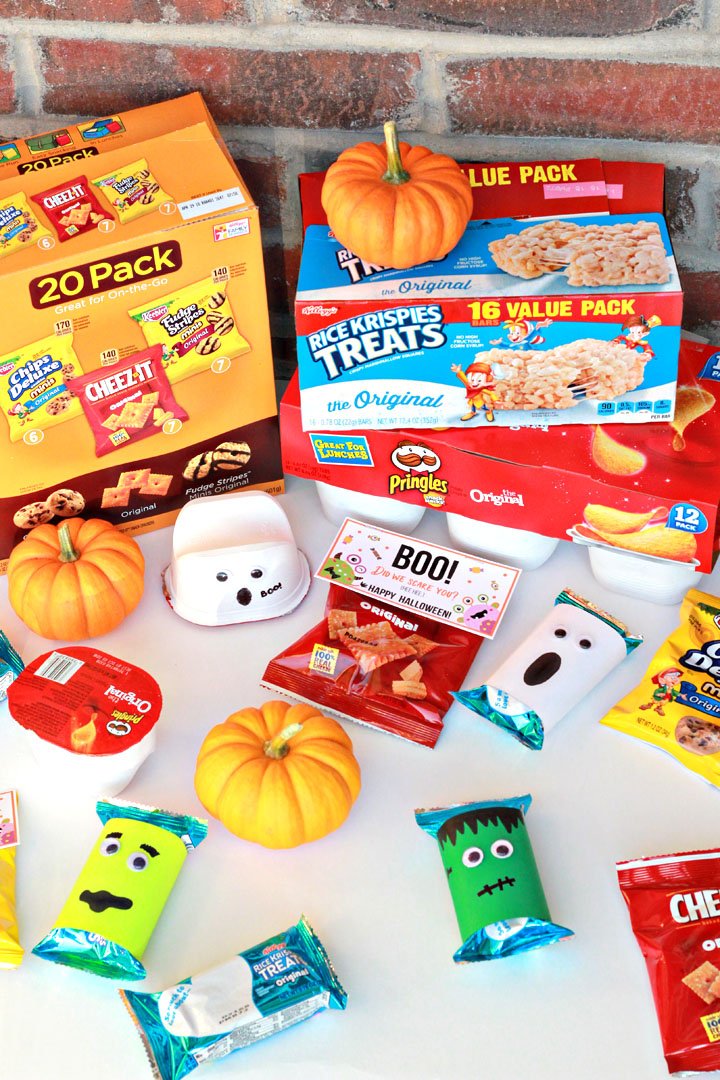 Even better, these are super quick to make. No matter how much I love my kids, I just don't have time to cut out 30+ glitter-encrusted witch silhouettes…or whatever over-the-top idea you dream up. Having three kids that are five and under has definitely caused me to re-prioritize how I spend my time.
If you're anything like me, you thrive on quick and simple ideas that give you a lot of bang for your buck. My whole goal with decorating these treats was to keep it SIMPLE. For me, they had to meet three requirements:
Take 5 minutes or less to make a whole bunch of them.
Use materials that I already had at home (and you probably have, too).
Be simple enough to engage my kids in helping.
Here's what I did:
First, we had to pick out our snacks/treats. One day after school last week, the kids and I took a trip to our local Smith's Marketplace to get our supplies. Kids get a lot of candy this time of year, so I thought I'd change things up by choosing chips, crackers, and cookies. The single-serving packages are perfect for handing out at class parties or to trick-or-treaters.
We bought the following:
Kellogg's® Rice Krispies Treats® Original
Pringles® Original
Keebler® & Cheez-It® Variety Pack (which has Cheez-Its, Mini Fudge Stripe cookies, and Mini Chips Deluxe cookies).
Yep, my kids thought it was the best shopping trip ever. And my husband was thrilled when he came home that night because Cheez-Its are pretty much his favorite snack food ever. Funny how some things we love from childhood just stick with us forever.
P.S. – I found the Pringles in the chips aisle, but the cookies, Rice Krispies, and Cheez-Its were in the aisle with the breakfast/snack foods next to the granola bars. I thought I'd save you the trouble of hunting around the store for them.
P.P.S – Do you use digital coupons? I'm totally converted to having all my coupons on an app on my phone instead of having to keep track of paper ones. Plus, they are automatically applied, so I don't have to worry about forgetting to use a coupon before it expires. Somebody got smart with that one!
For a limited time, Kroger and Kroger banner stores are offering special pricing on Pringles Snack Packs and Keebler Cookie and Cheez-It Variety Packs. Click here to get a digital coupon for the products used in this tutorial.
Oh, and while I shopped at Smith's Marketplace, you can visit any Kroger or Kroger banner store to get the same deals.
Alright, back to our fun Halloween treats…Once we had our snacks/treats, we headed home to decorate. After some experimenting, here's what we came up with, along with instructions for you to recreate them.
First, gather your supplies…
Then, decide which project to make…or make all three!
#1: Pringles Ghosts
Materials needed:
Pringles Snack Stacks
hot glue gun
googly eyes
permanent marker
Instructions:
Flip your Pringles container upside down.
Glue on googly eyes with hot glue.
Using permanent marker, draw a ghostly mouth (an oval) and write the word "Boo!"
See, that only took about 30 seconds once your glue gun warmed up, right? This is totally doable.
Ready for the next idea?
#2: Monster Treat Wrappers
Materials needed:
Rice Krispies Treats
colored paper
hot glue gun
googly eyes
glue or tape
permanent marker
Instructions:
Cut your colored paper to wrap around your Rice Krispies Treats (approximately 3 inches by 6 inches, but you don't have to measure. Remember, we're keeping this simple).
Wrap a paper around a Rice Krispies Treat and secure in place with glue or tape.
Glue on googly eyes with hot glue.
Decorate the rest of the face as desired:

For Frankenstein, use a marker to add Hair, mouth stitches, & bolts on sides.
For the monster, draw a scary grin and (if you're feeling ambitious), add some sharp teeth with white paper or a white paint pen.
For the ghost, draw an oval gaping mouth.
#3: Free Printable Treat Tags
If you're REALLY pressed for time, choose option 3: funny and festive printable Halloween treats tags that fit perfectly on the snack-sized bags of Cheez-Its and Keebler cookies. Simply print, cut, and staple them on. Done!
There you have it! Three five-minute-or-less ideas to take normal pre-packaged treats kids love and make them fit for the best of Halloween celebrations. Whether you use them to jazz up a Halloween party, to become the trick-or-treaters' favorite house in the neighborhood, or just to make your own kids smile when they find a festive treat in their lunch box, these on-the-go snacks are sure to be a hit.
Happy Halloween, everyone!
For more Kellogg Halloween inspiration, visit the social hub!